The dimension of the human people that is open to the transcendent and divine
Our commitment to spiritual care is rooted in a commitment to promote and defend human dignity. This is the foundation of what we do: to respect the sacredness of every human life from the moment of conception until death. The first right of the human person, the right to life, entails a right to the proper development of life, such as adequate healthcare.
"The dignity of human life flows from creation in the image of God (G 1:26), from redemption by Jesus Christ (Eph 1:10; 1 Tm 2:4-6), and from our common destiny to share a life with God beyond all corruption (1Cor 15:42-57). St Francis Health Services has the responsibility to treat those in need in a way that respects the human dignity and eternal destiny of all. The words of Christ have provided inspiration for Catholic healthcare: 'I was ill and you cared for me' (Mt 25:36). The care provided assists those in need to experience their own dignity and value, especially when these are obscured by the burdens of illness or the anxiety of imminent death." (Ethical and Religious Directives), p.12
Sponsored by the Catholic Diocese of St. Cloud, St Francis Health Services seeks to be a "community that provides healthcare to those in need of it. This service must be animated by the Gospel of Jesus Christ and guided by the moral tradition of the Church" (ERD).
"Jesus' healing mission went further than caring only for physical affliction. He touched people at the deepest level of their existence; he sought their physical, mental, and spiritual healing (Jn 6:35, 11:25-27). He 'came so that they might have life and have it more abundantly' (Jn 10:10)."
Our healthcare should be marked by a spirit of mutual respect among caregivers. This disposes them to deal with those it serves and their families with the compassion of Christ, sensitive to their vulnerability at a time of special need.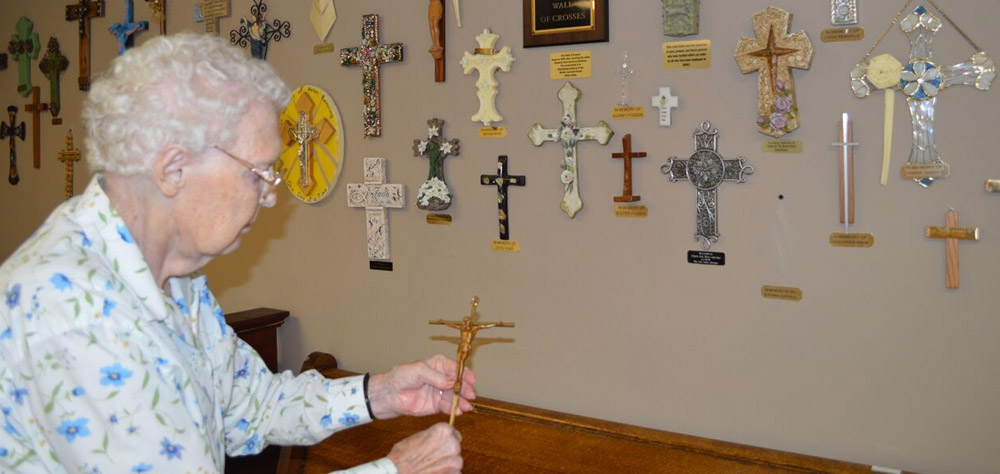 Spiritual Care is essential to this mission. More than a program, Spiritual Care encompasses our search for deeper meaning and purpose. It supports our need to be whole physically, emotionally and spiritually.
By providing training, support and consultation, St Francis Health Services seeks to sensitize and train staff about the spiritual needs of residents, family members and one another. As part of this task we have:
Developed tools to support staff in the recruitment and training of community spiritual leaders and volunteers.
Are responsible for the development of the basic standards of care to be addressed in facilities as related to the provision of spiritual care.
Offer training opportunities for pastoral care staff, and consultation to facilities about Pastoral Care guidelines and staffing issues.
St Francis provides their communities with policies and procedures for spiritual care to meet the goals of the program that:
Enhance resident services.
Create a sacred environment. St. Francis provides for a chapel where possible. Unfortunately, it is not always possible and in those cases every effort will be made to arrange for other spaces for sacred use.
Encourage recruitment of volunteers.
Establish relationships with communities of faith.
Develop assessment tools.
Define staff responsibility and provide training to meet residents' spiritual needs.
Establish a care center-based spiritual care advisory committee.
Promote end-of-life care and interface with hospice and bereavement programs.
Catholic healthcare is approached in a holistic way that takes into account the need to minister to all dimensions of the person, including the faith dimension. In carrying out healthcare as a ministry, spiritual care is seen as an integral part of the care given to a patient. "Jesus' healing mission went further than caring only for physical affliction. He touched people at the deepest level of their existence; he sought their physical, mental, and spiritual healing (Jn 6:35, 11:25-27). He 'came so that they might have life and have it more abundantly' (Jn 10:10)." (ERD), p.4
"Care offered is not limited to the treatment of a disease or bodily ailment but embraces the physical, psychological, social, and spiritual dimensions of the human person. The medical expertise offered through Catholic healthcare is combined with other forms of care [including spiritual care] to promote health and relieve human suffering… Without health of the spirit, high technology focused strictly on the body offers limited hope for healing the whole person. [1]" (ERD), p.12
"Directed to spiritual needs that are often appreciated more deeply during times of illness, pastoral care is an integral part of Catholic healthcare. Pastoral care encompasses the full range of spiritual services, including a listening presence; help in dealing with powerlessness, pain, and alienation; and assistance in recognizing and responding to God's will with greater joy and peace." (ERD), pp.12-13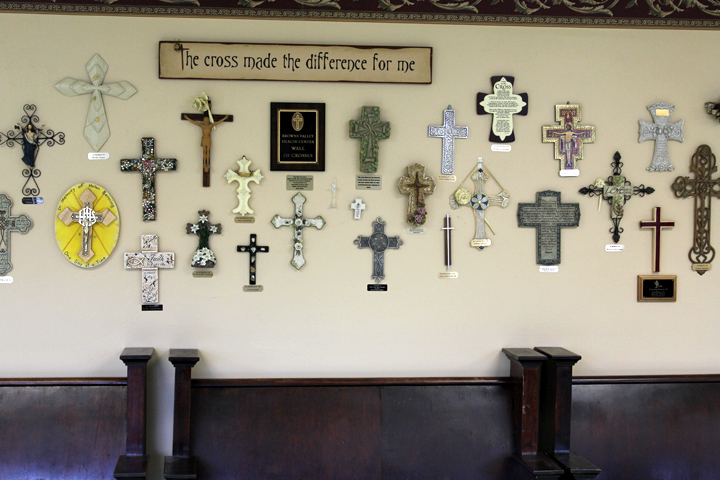 Spiritual Care involves the care of a person at the deepest interpersonal level. Whether the caregiver is a nurse, care provider, physician, counselor, spiritual care professional or volunteer…spiritual care is an integral aspect of resident and family care.
For example, spiritual needs may involve dealing with issues including the following:
Hope and doubt/despair
Gratitude and regret
Love and hate
Trust and distrust
Forgiveness and guilt
Belonging and alienation
Care and abandonment
Compassion and pain/fear
Spiritual growth and loss
---
Virtues of Spiritual Care 
Faith:
In the end there are three things that last: faith, hope, and love, and the greatest of these is love. (Cor1: 12-13)
The virtue of faith is given by God to help us understand God, ourselves, and the world. Our personal response to this gift is a life of faith, the spiritual life. During times of crisis, loss, terminal illness, this need to comprehend becomes much more focused on the present. "What is happening to me now?" and even deeper, "Why is this happening?" The gift of faith helps us to accept mysteries that we cannot fully comprehend. For many individuals, familiar rites and rituals of religious practice may offer comfort, security and opportunities to manifest new strength, understanding and ability to cope with the present.
Hope:
 Hope is the assurance of things not seen and the expectation of things longed for. (Hb11: 1)
Hope is the virtue that allows us to persevere during difficult times with an expectation for a better future. Hope is frequently challenged by disability, loss and terminal illness. To nurture hope, we must be sensitive to the resident's need for reassurance that God will not abandon us in times of illness and death; provide comforting presence during loneliness; and enable the individual to have access to whatever means and rites of religion that will encourage their hope.
Love:
God is Love and all those who abide in love abide in God. (John 4:2)
The virtue of love is the God-given ability that draws out the best from us and leads us to offer it as a gift in relationship with God and others. Love is challenged by disability, loss and terminal illness in that it turns us inward, isolating us from our relationships. Bestowing love from caregivers and family members nurtures the individual's ability to maintain and deepen relationships and demonstrates the power of love to endure in all things.
---
Goals of Spiritual Care
The goals of spiritual care are to support individuals and families as they integrate the present reality of life into their overall relationship with God during a health crisis, chronic illness, loss of body or cognitive functions, impending death or the dying process. These include:
Unresolved relationships
Life review
Taking care of unfinished business – practical, emotional, spiritual
Discovering the meaning of life
Addressing hopes and fears
Facing the reality of death
Saying goodbye
Walking through the stages of loss or grief
Establishing an atmosphere of prayer
Things to avoid:
Inappropriate "cheering", busyness, excessive talking
Treating spiritual care as an exclusively intellectual experience
Rigid and narrow convictions
Lack of respect for a person's belief
---
Caregivers must remember to:
Be aware of your own spiritual journey
Be aware of your feelings as you share in another's journey
Encourage and share in reminiscing
Encourage life review — a time when persons can remember and sometimes resolve or understand old conflicts and pain from a new perspective
Appreciate the present moment — whatever joy, pain, grief, struggle, or laughter it might hold
Listen
Remember that God/higher power may be revealed in unexpected ways during encounters of new experiences such as disabilities, illness and death
Remember to respect each person's life's journey
Silence is often a place to listen or be still, not emptiness to be filled
Suffering, in both its presence and meaning, is one of the core issues and mysteries of life
Cultural and religious traditions vary in interpreting suffering
"For the Christian, our encounter with suffering and death can take on a positive and distinctive meaning through the redemptive power of Jesus' suffering and death… This truth does not lessen the pain and fear, but gives confidence and grace for bearing suffering rather than being overwhelmed by it." (ERD), pp. 4-5
Giving and receiving forgiveness is a deep human need and hunger
Prayer can nurture healing (spiritual, body, emotional, relational)
[1] Health and Healthcare, p. 12.